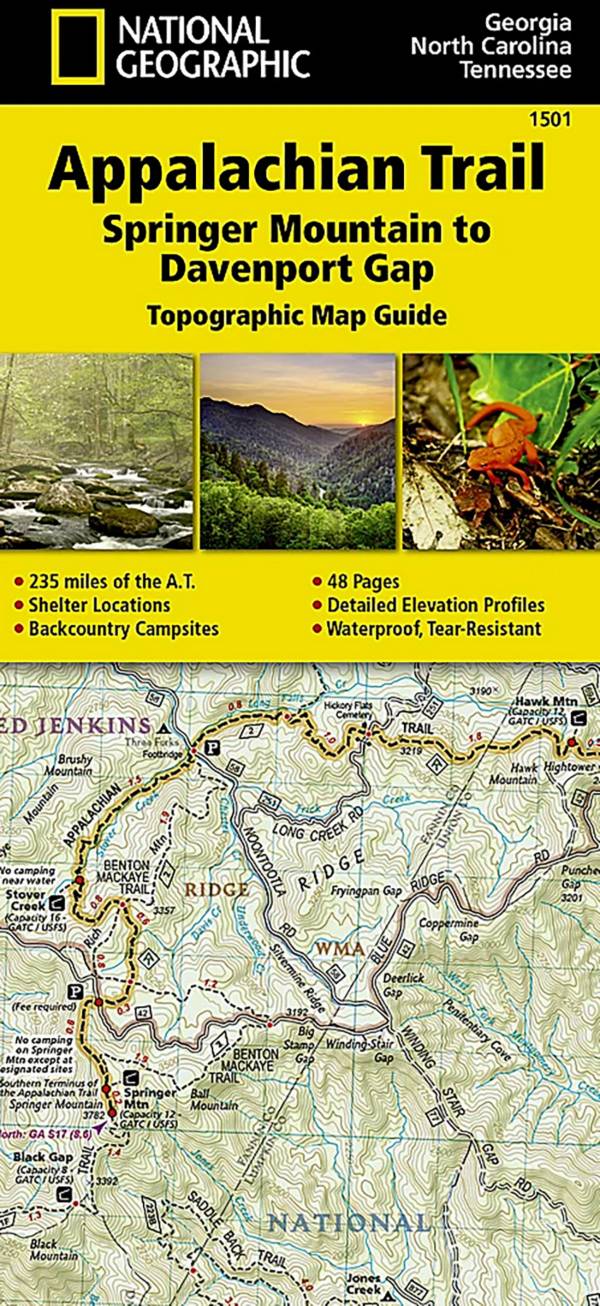 National Geographic AT Springer Mountain Map
Please enter your email so we can notify you when the item is in stock
National Geographic AT Springer Mountain Map
Product Information:
The Springer Mountain to Davenport Gap Topographic Map Guide makes a perfect traveling companion when traversing the Georgia, southeastern Tennessee and southwestern North Carolina, section of the Appalachian Trail (A.T.). The southernmost section of the A.T. which starts at Georgia's Springer Mountain and heads north into North Carolina and Tennessee, offers some of most physically challenging, but rewarding hiking along the entire trail. The A.T. through this area is located entirely within National Park and National Forest land and follows the ridges and balds of the beautiful and biologically diverse Southern Appalachians.Each A.T. Topographic Map Guide includes detailed topographic maps at a detail of 1 inch = 1 mile. Each page is centered on the A.T. and overlaps with the adjacent pages so there is little chance of getting lost. Along the bottom of each page is a trail profile that shows the distance between shelters, camping areas, and trail access points. The map and trail profile provide a step-by-step visual guide to hiking the trail, mile by rugged mile. The Topographic Map Guide is built for all levels of hiking enthusiasts, from the day tripper to the multi month 'thru-hiker'. The front pages of the printed Topographic Map Guide include resupply information, town inset maps, camping options, and much more.
Every Topographic Map Guide is printed on "Backcountry Tough" waterproof, tear-resistant paper. A full UTM grid is printed on the map to aid with GPS navigation.
Other features found on this map include: A. Rufus Morgan Shelter, Blood Mountain, Blood Mountain Shelter, Blue Mountain Shelter, Bly Gap, Brown Fork Gap Shelter, Cable Gap Shelter, Carter Gap Shelter, Chattahoochee National Forest, Clayton, Clingmans Dome, Cold Spring Shelter, Cosby Knob Shelter, Davenport Gap Shelter, Deep Gap Shelter, Derrick Knob Shelter, Dicks Creek Gap, Double Spring Gap Shelter, Fontana Dam Shelter, Fontana Lake, Franklin, Gooch Mountain Shelter, Great Smoky Mountains National Park, Hawk Mountain Shelter, Helen, Icewater Spring Shelter, Long Branch Shelter, Low Gap Shelter, Mollies Ridge Shelter, Mount Collins Shelter, Mount Guyot, Muskrat Creek Shelter, Nantahala National Forest, Newfound Gap, Peck's Corner Shelter, Plumorchard Gap Shelter, Rock Gap Shelter, Russell Field Shelter, Sassafras Gap Shelter, Siler Bald Shelter, Silers Bald Shelter, Spence Field Shelter, Springer Mountain, Springer Mountain Shelter, Standing Indian Shelter, Stover Creek Shelter, Suches, Tray Mountain Shelter, Tri-Corner Knob Shelter, Wayah Bald, Wayah Shelter, Wesser Bald Shelter, Whitley Gap Shelter, Woods Hole Shelter.
Country of Origin:
Brand:
Brand :

National Geographic

Country of Origin : United States of America

Brand :

National Geographic
Web ID:

22ETGUTSPRNGRMNTNGEN

SKU:

24071332