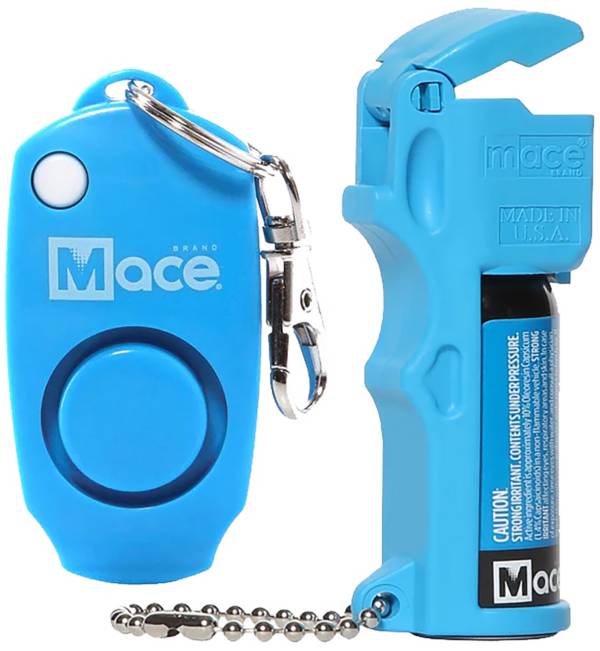 Mace Security Pocket Size Pepper Spray and Personal Alarm
PERSONAL ALARM KEYCHAIN:
LOUD AND COMPACT ALARM – This Mace® Brand Personal Alarm Keychain is compact but powerful. Emitting 130dB when activated, this portable alarm will scare off threats while drawing attention for help.
EASY TO USE – In case of an emergency, the alarm is easily activated. Simply push the button to deter any attacker or intruder. This personal alarm can also be used to draw attention to you if you need medical attention or help. *Batteries included.
BUILT-IN WHISTLE – Always leave the house feeling prepared. The built-in emergency manual whistle provides a backup option in case of battery failure. Replacement alkaline LR44 batteries can be found at any drug store.
KEYCHAIN – The Mace® Brand Personal Alarm has a keychain making it easy to carry when you're on-the-go. Either carry it in your hand or attach it to your keys and you're ready.
POCKET SIZE PEPPER SPRAY:
ACCURATE PROTECTION – Accurate & effective, the Mace® Brand Pocket Size Pepper Spray combines an advanced delivery system with a powerful formula to protect you from threats. Its power stream pattern provides long-range protection up to 10 ft.
STRONG FORMULA – OC pepper spray causes respiratory distress and coughing, impaired vision and an intense burning sensation to the skin while UV dye leaves a long-lasting residue to support investigation and identification.
CONVENIENT AND SAFE: This Pocket-Sized Pepper Spray includes a keychain for fast access making it easy to find when in a hurry. Plus, it is 100% TSA/FAA compliant for checked baggage airline travel.
FLIP TOP SAFETY CAP – This Mace® Brand Pocket Pepper Spray features a finger-grip design to maximize your grasp and accuracy. The unique flip top safety cap prevents accidents or misfires making this pocket pepper spray convenient and safe.
MACE BRAND – "MACE" is Pepper Spray, but not all Pepper Spray is Mace® Brand. Made in the USA, we continue to innovate the industry with powerful formulas, fast-acting delivery systems, and new safety features that ensure protection and peace of mind.
Country of Origin : United States of America

Stun Type : Alarm

Brand :

Mace
Web ID:

23MCEAPRSNLLRMPPPHUA