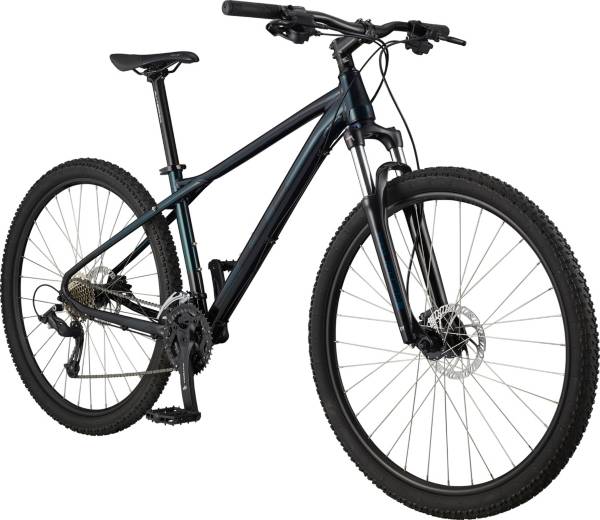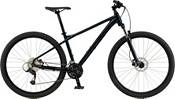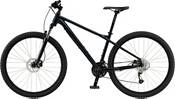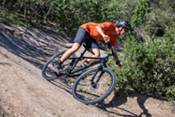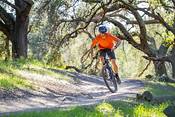 GT Men's Avalanche 29'' Mountain Bike
Highlights
<div><table class="responsive-data-table" border="1"><tbody><tr><th>Frame Size</th><td>15", 17", 19", 21"</td></tr><tr><th>Wheel Size</th><td>29"</td></tr><tr><th>Frame</th><td>6061-T6 Aluminum Triple Triangle™ Frame, w/ Replaceable Derailleur Hanger, and 1 1/8- 1 1/2" tapered Head Tube</td></tr><tr><th>Fork</th><td>MTB suspension fork, coil spring with preload, 100mm travel for 29", disc brake specific</td></tr><tr><th>Rear Shock</th><td>N/A</td></tr><tr><th>Headset</th><td>1 1/8"</td></tr><tr><th>Crank</th><td>Forged Alloy 42/34/24T</td></tr><tr><th>Bottom Bracket</th><td>Cartridge Sealed</td></tr><tr><th>Front Derailleur</th><td>MTB Type</td></tr><tr><th>Rear Derailleur</th><td>MTB Type for 24spd gearing</td></tr><tr><th>Cog Set</th><td>9speed 11-35</td></tr><tr><th>Shifters</th><td>MTB Trigger type, 9spd right/3spd left</td></tr><tr><th>Number of gears</th><td>27</td></tr><tr><th>Chain</th><td>9spd type</td></tr><tr><th>Front Hub</th><td>Alloy Disc QR</td></tr><tr><th>Rear Hub</th><td>Alloy Cassette Disc QR</td></tr><tr><th>Spokes</th><td>14G Stainless</td></tr><tr><th>Tube Size</th><td>29" x 2.10</td></tr><tr><th>Rims</th><td>29" Alloy double wall, disc specific</td></tr><tr><th>Tires</th><td>Transition 29" x 2.25"</td></tr><tr><th>Brakes</th><td>Hydraulic disc w/ 160mm rotors</td></tr><tr><th>Brake Levers</th><td>Hydraulic</td></tr><tr><th>Pedals</th><td>Gt Platform pedal</td></tr><tr><th>Handlebar</th><td>6061 Aluminum Riser, 720mm Width, 12mm Rise, 31.8mm Clamp</td></tr><tr><th>Grips</th><td>GT Statement logo grips</td></tr><tr><th>Stem</th><td>Alloy 1 1/8" Threadless, 4-Bolt W/ CNC Face Plate, 10° Rise, 31.8mm Clamp</td></tr><tr><th>Seat</th><td>MTB performance comfort</td></tr><tr><th>Seat Post</th><td>micro adjust alloy seat post, 30.9 diameter</td></tr></tbody></table></div>
Unused bikes are eligible for return up to 24 hours after in store purchase, pick-up, or home delivery.
Policy Details
Frame Size
15", 17", 19", 21"
Wheel Size
29"
Frame
6061-T6 Aluminum Triple Triangle™ Frame, w/ Replaceable Derailleur Hanger, and 1 1/8- 1 1/2" tapered Head Tube
Fork
MTB suspension fork, coil spring with preload, 100mm travel for 29", disc brake specific
Rear Shock
N/A
Headset
1 1/8"
Crank
Forged Alloy 42/34/24T
Bottom Bracket
Cartridge Sealed
Front Derailleur
MTB Type
Rear Derailleur
MTB Type for 24spd gearing
Cog Set
9speed 11-35
Shifters
MTB Trigger type, 9spd right/3spd left
Number of gears
27
Chain
9spd type
Front Hub
Alloy Disc QR
Rear Hub
Alloy Cassette Disc QR
Spokes
14G Stainless
Tube Size
29" x 2.10
Rims
29" Alloy double wall, disc specific
Tires
Transition 29" x 2.25"
Brakes
Hydraulic disc w/ 160mm rotors
Brake Levers
Hydraulic
Pedals
Gt Platform pedal
Handlebar
6061 Aluminum Riser, 720mm Width, 12mm Rise, 31.8mm Clamp
Grips
GT Statement logo grips
Stem
Alloy 1 1/8" Threadless, 4-Bolt W/ CNC Face Plate, 10° Rise, 31.8mm Clamp
Seat
MTB performance comfort
Seat Post
micro adjust alloy seat post, 30.9 diameter
FEATURES:
Get ready to shred the mountain trails with the GT Men's Avalanche 29'' Mountain Bike
It offers increased stability and improved efficiency while providing better rollover on uneven terrain
It features a durable 6061-T6 aluminum triple triangle frame
hydraulic disc brakes
27 speeds
Kickstand not included
NOTICE: Used Bikes and/or bikes purchased online that have been assembled are non-returnable. We strongly recommend that a professional bicycle mechanic properly assembles, repairs, and maintains the bicycle. DICK'S Sporting Goods will provide free in-store assembly service by a certified technician for any bicycle purchased on our website or in our stores (proof of purchase required). If you choose to assemble the bicycle yourself, DICK'S Sporting Goods is not responsible for injuries or damages resulting from improper assembly.
Country of Origin : Imported

Brand :

GT
Web ID:

18GTXMVLNCH29NRXXPRF
Specifications
| | |
| --- | --- |
| Frame Size | 15", 17", 19", 21" |
| Wheel Size | 29" |
| Frame | 6061-T6 Aluminum Triple Triangle™ Frame, w/ Replaceable Derailleur Hanger, and 1 1/8- 1 1/2" tapered Head Tube |
| Fork | MTB suspension fork, coil spring with preload, 100mm travel for 29", disc brake specific |
| Rear Shock | N/A |
| Headset | 1 1/8" |
| Crank | Forged Alloy 42/34/24T |
| Bottom Bracket | Cartridge Sealed |
| Front Derailleur | MTB Type |
| Rear Derailleur | MTB Type for 24spd gearing |
| Cog Set | 9speed 11-35 |
| Shifters | MTB Trigger type, 9spd right/3spd left |
| Number of gears | 27 |
| Chain | 9spd type |
| Front Hub | Alloy Disc QR |
| Rear Hub | Alloy Cassette Disc QR |
| Spokes | 14G Stainless |
| Tube Size | 29" x 2.10 |
| Rims | 29" Alloy double wall, disc specific |
| Tires | Transition 29" x 2.25" |
| Brakes | Hydraulic disc w/ 160mm rotors |
| Brake Levers | Hydraulic |
| Pedals | Gt Platform pedal |
| Handlebar | 6061 Aluminum Riser, 720mm Width, 12mm Rise, 31.8mm Clamp |
| Grips | GT Statement logo grips |
| Stem | Alloy 1 1/8" Threadless, 4-Bolt W/ CNC Face Plate, 10° Rise, 31.8mm Clamp |
| Seat | MTB performance comfort |
| Seat Post | micro adjust alloy seat post, 30.9 diameter |