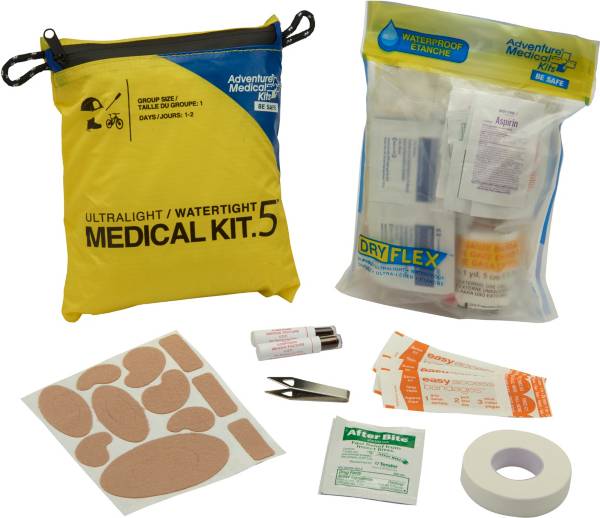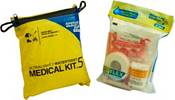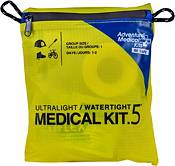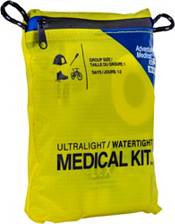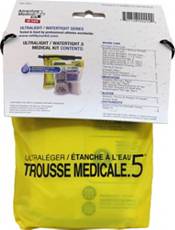 Adventure Medical Kits Ultralight/ Watertight .5 Medical Kit
Highlights
Multisport
Waterproofing
Travels light
SPECS:
Size: 5.5" x 11" x 1"
Weight: 3.68 oz.
Group Size: 1 Person
Trip Duration: 1 - 2 Days
DESIGN & DETAILS:
Designed for Multi-Sport Athletes: Switch from backpacking to kayaking to climbing without changing your first aid kit. Originally designed for adventure racing, this medical kit will perform for any and every outdoor sport.
2-Stage Waterproofing: Face rivers, snow, and the elements without destroying your kit, which has a 100% waterproof DryFlex™ inner bag and water-resistant outer bag with a durable water repellent finish
Ultralight & Compact: Travel light with this extremely compact medical kit that contains the preparedness supplies you need without taking up space you don't have
Blister Prevention & Protection: Stop blisters before they start with die-cut moleskin, the most reliable dressing to reduce friction and prevent blisters
Treatment for Wounds & IllnessesClean and close wounds with antiseptic wipes, butterfly bandages, sterile dressings, and a topical adhesive to holds bandages in place
Bug Removal & Bite Relief: Remove ticks or splinters with the specially designed forceps. Stop the itch of insect bites with After Bite® wipes and treat minor allergic reactions to bites with diphenhydramine
INCLUDES:
Bandage Materials:
5 - Bandage, Adhesive, Fabric, 1" x 3"; 3 - Bandage, Adhesive, Fabric, Knuckle; 2 - Bandage, Butterfly Closure; 1 - Bandage, Conforming Gauze, 2"; 2 - Dressing, Gauze, Sterile, 2" x 2", Pkg./2; 2 - Dressing, Gauze, Sterile, 3" x 3", Pkg./2; 1 - Dressing, Non-Adherent, Sterile, 3" x 4"
Blister / Burn:
1 - Moleskin, Pre-Cut & Shaped (11 pieces)
Instrument:
3 - Safety Pins; 1 - Splinter Picker/Tick Remover Forceps
Medication:
2 - After Bite Wipe; 2 - Antihistamine (Diphenhydramine 25 mg); 2 - Aspirin (325 mg), Pkg./2; 2 - Ibuprofen (200 mg), Pkg./2; 2 - Acetaminophen (500 mg), Pkg./2
Wound Care:
6 - Antiseptic Wipe; 2 - Alcohol Swab; 1 - Tape, 1/2" x 10 Yards; 1 - Skin Tac™ Topical Adhesive, Wipe; 2 - Triple Antibiotic Ointment, Single Use
Country of Origin : Imported

Brand :

Adventure Medical Kits
Web ID:

21AMKALTRLGHTWTRGCAC

SKU:

22323497